6b. Greater Brisbane Ballooning, Koalas & Cruising Package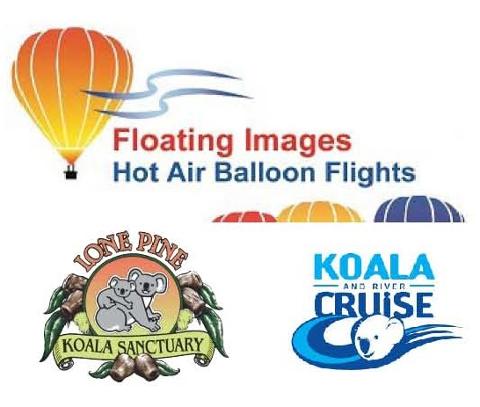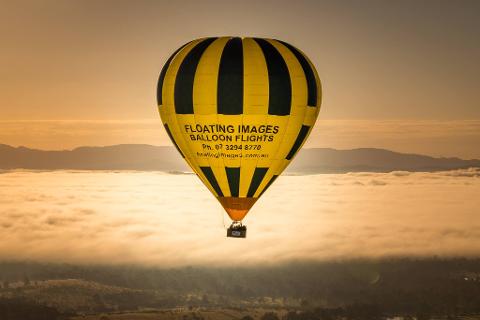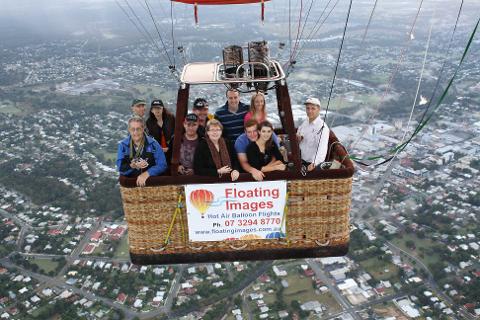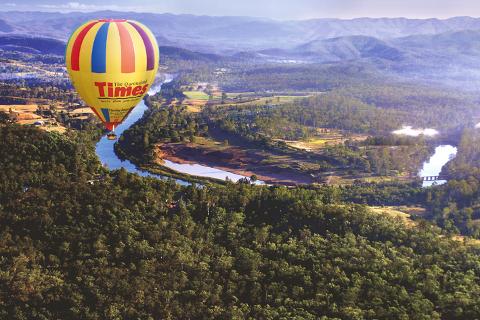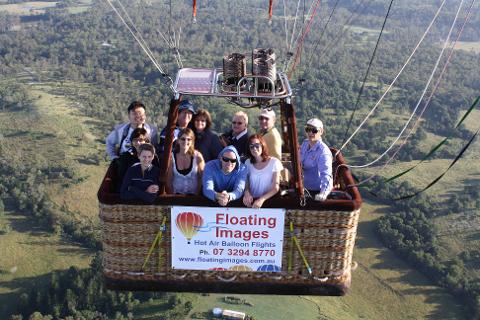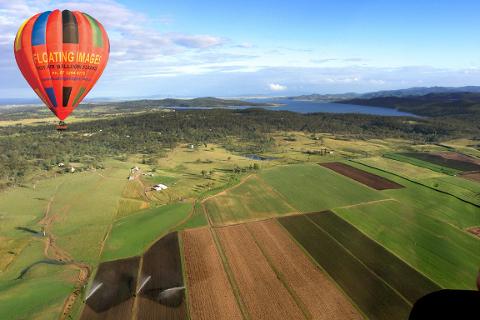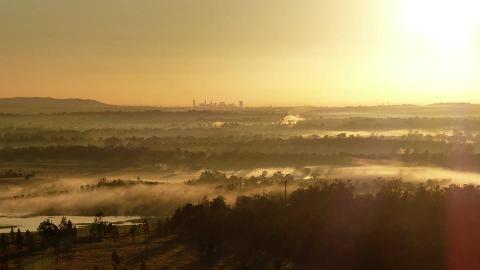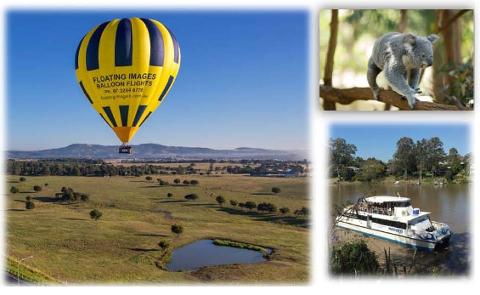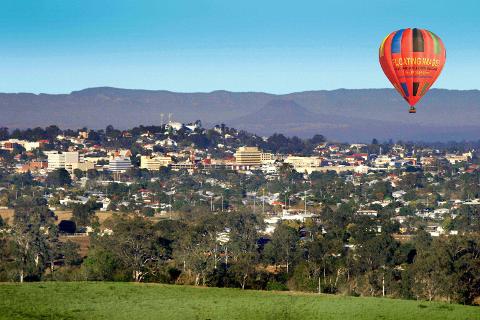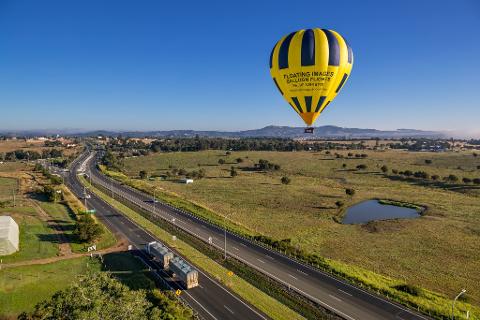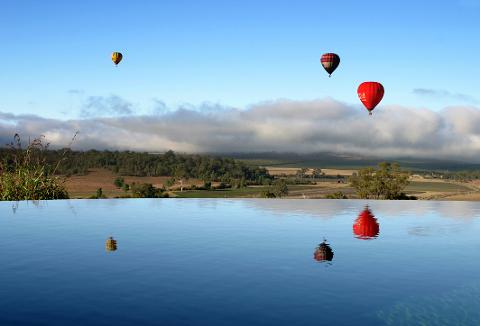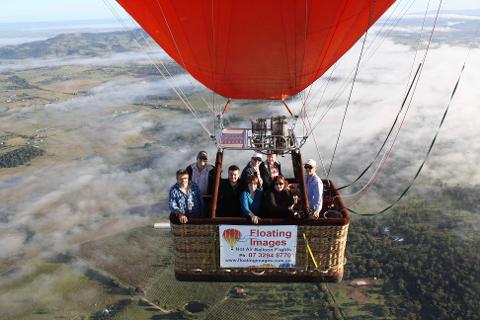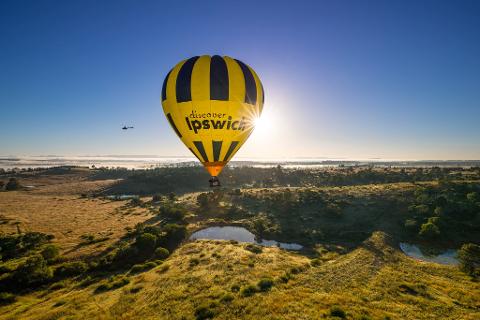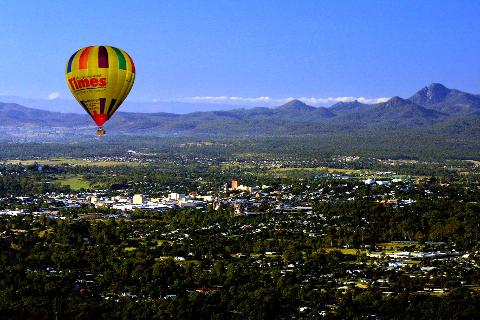 Duration: 12 Hours (approx.)
Location: Ipswich, Greater Brisbane Region, QLD
Product code: FIHABFBKC
Three of Brisbane's Best - Ballooning, Koalas & Cruising all in one package!
See the best of the Brisbane Region – from the air, ground and water – with this package that combines three top tourism experiences.

Scenic city & country views from above during a sunrise Floating Images Hot Air Balloon flight, then experience Australia's native flora & fauna whilst wandering Lone Pine Koala Sanctuary and finally take a Mirimar Cruise along the Brisbane River back to the Brisbane Cultural Precinct.
Three different experiences in one day - Air, Land & Water - Scenic Flight, Koalas & Kangaroos and Cruising!
Start your day with an unforgettable hot air balloon flight.
The warm burners igniting above your head will slowly send the Floating Images hot air balloon upwards. Standing in the wicker basket below, have your camera charged and ready to capture the spectacular unfolding scenery as we silently pass from city to countryside and sunrise views of the Greater Brisbane region including Ipswich, Scenic Rim and Somerset regions reveal themselves.
Floating Images is the closest hot air balloon company to Brisbane and we will pick you up from your accommodation in Brisbane CBD. The drive to the day's launch site is approximately 40 minutes, and every flight is taken by owner and pilot Graeme Day, who has nearly three decades of experience and an unwavering passion for ballooning. Assist the crew unpack and inflate the balloon (optional) and prepare for our 1-hour balloon flight.

In the air, Graeme will share his deep knowledge of the local region as the wind pushes you over different landmarks. His humour and storytelling make his in-flight commentary both informative and entertaining.

After the landing, deflation and pack down, we head back for a restaurant breakfast and commemorative flight certificate presentation.

Feed kangaroos and hold koalas at Lone Pine Koala Sanctuary

After breakfast Floating Images will transfer you to the world's first and largest koala sanctuary - a 30-minute drive. At Lone Pine you will have 3-4 hours to explore the wildlife park. Get a photo holding one of 130 koalas (extra cost), or entice one of more than 100 kangaroos and wallabies with special feed to get a selfie together. There are stacks of enclosures with different native Australian animals, plus a schedule of shows where you can learn more with the wildlife keepers and watch birds of prey in action. Lunch is not included, but you can purchase it at the park, or enjoy afternoon snacks aboard the boat cruise back to Brisbane.
Cruise home on the Brisbane River with Mirimar Cruises
Your relaxing return cruise down the Brisbane River back towards the city leaves at 2.15pm from the Lone Pine jetty. Mirimar Cruises is a Brisbane must-do and has been taking locals and visitors to and from Lone Pine for more than 60 years, passing from the leafy suburbs to the glass jungle city. Sit back and enjoy Australian music during the 60-minute journey home. You can purchase meals or beverages on board. Mirimar will drop you at the South Bank Cultural Precinct, where you can explore the nearby 17-hectare parklands, museums and galleries, join a cycling or walking tour, or wander back across a bridge to the CBD where the morning started. Just ask for suggestions for things to do – we are more than happy to help.
Note: Mirimar also run the Koala Express – a fast boat option that takes 40 minutes. Different return time & rate may apply, however.
Please note: a minimum of 2 people per booking applies.
**** Note ****** Apologies - under current Covid 19 restrictions we are unable to provide this tour package due to the other partners booking Covid restrictions.
Only the Self Drive Package is available. You may catch a taxi, Uber, hire car or self drive to still enjoy our ballooning experience. :-) . You may still attend Lone Pine and maybe undertake a Mirimar Cruise - just not as a complete easy to book package.

ADDITIONAL INFORMATION

PACKAGE INCLUSIONS:

1. Early morning pre-sunrise Brisbane CBD Accommodation transfer for a:
2. Floating Images Hot Air Ballooning & Breakfast program experience;
3. After flight program transfer by Floating Images to
4. Lone Pine Koala Sanctuary (excludes lunch)
5. Afternoon Cruise - Mirimar Cruises return transfer back to Southbank Cultural Precinct
ALL DAY PACKAGE - Pre-sunrise to 3.30 pm
Exclusions: Morning tea, Lunch & Afternoon tea. These can be purchased separately on the day at Lone Pine &/ or Mirimar Cruises


YOUR ITINERARY & PACKAGE DETAILS:
Early morning, pre-sunrise Brisbane CBD Accommodation transfer
to Ipswich provided by Floating Images Hot Air
Balloon Flights.
To start your Ballooning, Koala & Cruising experience, participants are collected and transferred from their
Brisbane CBD accommodation, approx 40 minutes prior to the nominated pre-sunrise meeting time required at the ballooning program venue in Ipswich.


FLOATING IMAGES HOT AIR BALLOON FLIGHTS – Brisbane's closest boutique ballooning & breakfast experience:

This soft adventure activity is approx. 3 – 4 hours, and includes:
Commencing 45 minutes before Sunrise


(Approx: 4.00 am Summer, 4.45 – 5.30 am Autumn & Spring, 6.00 am Winter)

Meet & Greet Passengers at Ipswich
Inflation & Deflation of Balloon Participation
One Hour Hot Air Balloon Scenic Flight – encompassing the Greater Brisbane Region – Ipswich, Scenic Rim region & Somerset countryside
In - Flight Commentary
Restaurant Breakfast
Commemorative Flight certificate
Flight Program Transportation
Flying with the owner, operator & chief pilot of the business
Insurance & GST
Optional purchase of In-flight Balloon CD
Floating Images Hot Air Balloon Flights Program Description:

The Greater Brisbane, Somerset and Scenic Rim regions in South East Queensland is the ultimate place to experience the magic and adventure of hot air ballooning – and why not book with the Ipswich, Somerset & Scenic Rim regions first and longest running ballooning operator.
Floating Images offers a boutique ballooning experience all year round, providing a personal & professional service for individuals & small groups – with a maximum of 10 passengers per flight. We believe in the ballooning experience, with flights around one hour duration (not the transfer experience). Our launch sites are as little as 5 – 20 minutes drive from our meeting point – wind speed & direction pending.

After being greeted 45 minutes prior to sunrise, your pilot will brief you and your fellow passengers on the morning's proceedings.

After final weather checks by the pilot, you will then be taken to the chosen launch site, based on the mornings wind speed and direction. You might even be able to assist with the inflation of the hot air balloon.
Once the balloon is inflated, the hot air balloon will lift off for your flight which will be approximately 1 hour in duration.
Whilst floating majestically and effortlessly, your balloon flight combines the city and country in one flight. Your balloon flight is tranquil yet exhilarating. As the world slowly awakens, you float peacefully overhead, witnessing the serenity in slow motion from the balloon basket.
Breathtaking views of the city of Ipswich & its classic Queenslanders, heritage buildings and homes, Flinders Peak, Mt. Walker, the Great Dividing & McPherson Ranges, Mt. Tamborine, Moreton Bay, the skyline of Brisbane, Mount Coot-tha, D'Aguilar Range, Wivenhoe Dam, the Brisbane, Fassifern & Lockyer Valleys and the Brisbane & Bremer Rivers.

Upon landing, you may become involved in assisting the crew in packing up the hot air balloon or taking photographs. Afterwards our crew will return you to Ipswich for a sumptuous sit down restaurant breakfast, including a full hot breakfast and a continental breakfast. A commemorative flight certificate will be presented to each passenger to conclude the morning's activity.

After the Floating Images Hot Air Balloon Flight & breakfast experience, clients will be transferred by Floating Images to Lone Pine Koala Sanctuary which opens at 9.00 am daily.(Approx 30 minutes). Depending on the time of the year and the ballooning program finishing time, clients will arrive at Lone Pine somewhere between 9.00 am – 10.30 am season pending. Clients can then spend between 3 – 4 ½ hours exploring Lone Pine Koala Sanctuary.

LONE PINE KOALA SANCTUARY

Lone Pine is the world's largest koala sanctuary, with more than 130 Koalas on site.
Clients can choose to cuddle a koala (own expense), take photos with the adorable marsupials, and perhaps catch a talk by the koala's keepers. You can also feed the kangaroos and wallabies; more than 100 of them live in a 5-acre (2 hectare) reserve at Lone Pine. Or head over to the Platypus House where you may get a chance to see the shy platypus, a native to Australia.
Along with koalas, kangaroos, wallabies, bilbys and Platypus House, Lone Pine also host a sheepdog show where you see the hardworking dogs round up a herd of sheep, responding to their master's whistles, calls and hand signals. You can see owls, kites and sea eagles soar above you at the Birds of Prey show.
Clients can also choose to purchase lunch at the Lone Pine Koala Sanctuary before heading down the Jetty at Lone Pine for a relaxing cruise back to Brisbane's Southbank precinct.

Cruise departs at 2.15 pm.
MIRIMAR CRUISE – RETURN TO SOUTH BANK

After spending some time exploring Lone Pine Koala Sanctuary clients make your way to the Lone Pine jetty to cruise back to river on the famous Koala and River Cruise. This popular cruise has been taking locals and visitors to and from Lone Pine for over 60 years and is a "must do" experience during your stay in Brisbane.
You'll board your boat at Lone Pine and cruise to the city passing through leafy suburbs with waterside mansions to the bustle of the city's skyscrapers. Sit back, relax and enjoy the tranquillity of the river while listening to Australian music.
You'll also be able to purchase meals or beverages on the boat during the cruise.
After about an hour you'll arrive at Southbank where you can make your own way back to you hotel or meander through the lush gardens of Southbank or check out the museums and art galleries of the Southbank Cultural Precinct.

River Cruise & Tour finishes at Southbank Cultural Centre Pontoon at approx 3.30 pm. There is no hotel drop off after cruise.

Note: A Koala Express - fast boat option is also available to return to Brisbane departing 12.00 pm (arrives 12.40 pm) or 2.00pm (arrives 2.40 pm) Different return rate may apply however.
Please note: a minimum of 2 people per booking applies.

If clients wish – whilst at Southbank you can visit The Wheel of Brisbane, the Cultural precinct including GOMA, State Museum, Library, Art Gallery and the State Library or just wander (Walk Brisbane) or cycle (Brisbane by Bicycle) around Southbank area have a bit to each or just relax – just to name a few things to do in and around the area before heading back to your accommodation.. Other suggestions can be provided to compliment your itinerary – just ask!

PLEASE NOTE: DUE TO CURRENT COVID 19 RESTRICTIONS - THIS TOUR IS CURRENTLY UNAVAILABLE.

BOOKINGS FOR EACH TOUR OPERATORS CAN ONLY BE MADE DIRECTLY WITH EACH.